Frequently Asked
Questions
How do I know if my air conditioner is energy efficient?
A key consideration in selecting an air conditioner is how energy efficient it is.
Pick the system that suits you best
To make sure your system is energy efficient, it's vital to ensure the system is selected and installed (often referred to as "designed") for you properly:
Rating Systems
Additionally, energy performance information can also be found in a number of rating systems. These rating systems often leave a lot to be desired, because they're not necessarily reflective of how you actually use an air conditioner, or the conditions an air conditioner operates in, and assumes that the design of the system is appropriate for you home.
As such, whilst these rating systems are a quick source of information, to achieve energy efficient performance it's far more important to get the overall Design correct.
These energy ratings system include the following:
Non-ducted systems: Energy Label
Found on non-ducted products like Wall Hung Split systems, the Energy Label gives a quick reference to the expected energy efficiency performance of your system in each of the climate regions found in Australia. Put simply, the higher the star rating, the better the expected energy efficiency of your system. Our Serene system includes one of Australia's only 7 star rated system – learn more here.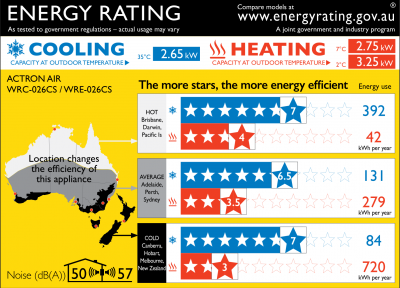 Ducted systems: Energy Efficiency Ratio (EER) and Coefficient of Performance (COP)
Often easily found in the technical data of a system's brochure, these figures represent the ratio of cooling (EER) or heating (COP) a ducted system provides relative to the amount of electrical input it needs to consume, and are a measure you can use in understanding a system's expected energy efficiency. And as with the Energy Label on the non-ducted products, the higher the EER/COP number, the better it's energy efficiency is expected to be.
However, the method used to determine these figures is less than ideal. It's a bit technical and boring, but it's really important to know. In a nutshell, these figures don't accurately capture the actual energy efficiency of a system.
You see, air conditioners deliver more energy efficient performance by matching the amount of conditioning they provide more accurately to your actual needs, rather than generating more air than you require. That's why they focus so heavily on technical elements like zoning, advanced variable compressors, and energy efficient fans – these all work together to allow the system to vary based on your needs. The performance of these systems are also heavily impacted by how well they maintain their capacity, (the amount of heating or cooling they can provide), in the different temperatures they operate at.
And where these rating systems fall over is that they don't adequately measure the performance of all of these elements together, at a wide enough range of conditions. They also assume that you have a system appropriate designed for your home and your lifestyle, which is not necessarily the case.
For true energy efficiency, it's far more important to select a system that suits your lifestyle, and is sized correctly. Working from that foundation, it's then important to select the right features like zoning, controls, and energy efficient compressor technology.